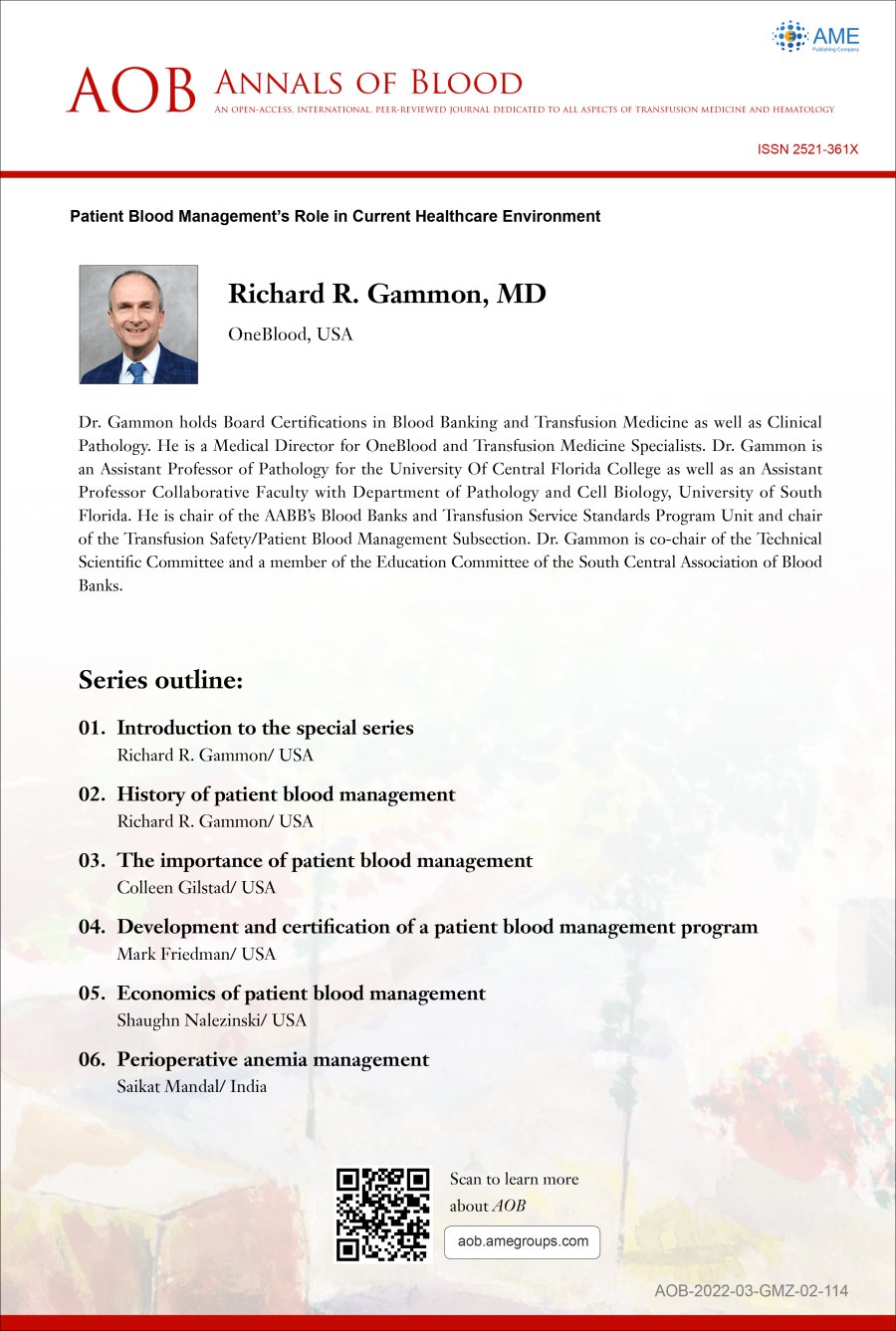 This series on "Patient Blood Management's Role in Current Healthcare Environment" is edited by Dr. Richard R. Gammon from OneBlood, USA
Richard R. Gammon, MD
OneBlood, USA
Dr. Gammon holds Board Certifications in Blood Banking and Transfusion Medicine as well as Clinical Pathology. He is a Medical Director for OneBlood and Transfusion Medicine Specialists. Dr. Gammon is an Assistant Professor of Pathology for the University Of Central Florida College as well as an Assistant Professor Collaborative Faculty with Department of Pathology and Cell Biology, University of South Florida. He is chair of the AABB's Blood Banks and Transfusion Service Standards Program Unit and chair of the Transfusion Safety/Patient Blood Management Subsection. Dr. Gammon is co-chair of the Technical Scientific Committee and a member of the Education Committee of the South Central Association of Blood Banks.
Series outline
Introduction to the special series
Richard R. Gammon/ USA
History of patient blood management
Richard R. Gammon/ USA
The importance of patient blood management
Colleen Gilstad/ USA
Development and certification of a patient blood management program
Mark Friedman/ USA
Economics of patient blood management
Shaughn Nalezinski/ USA
Perioperative anemia management
Saikat Mandal/ India
Disclosure:
The special series "Patient Blood Management's Role in Current Healthcare Environment" was commissioned by the editorial office, Annals of Blood without any funding or sponsorship. Richard R. Gammon is serving as the unpaid Guest Editor for the special series.