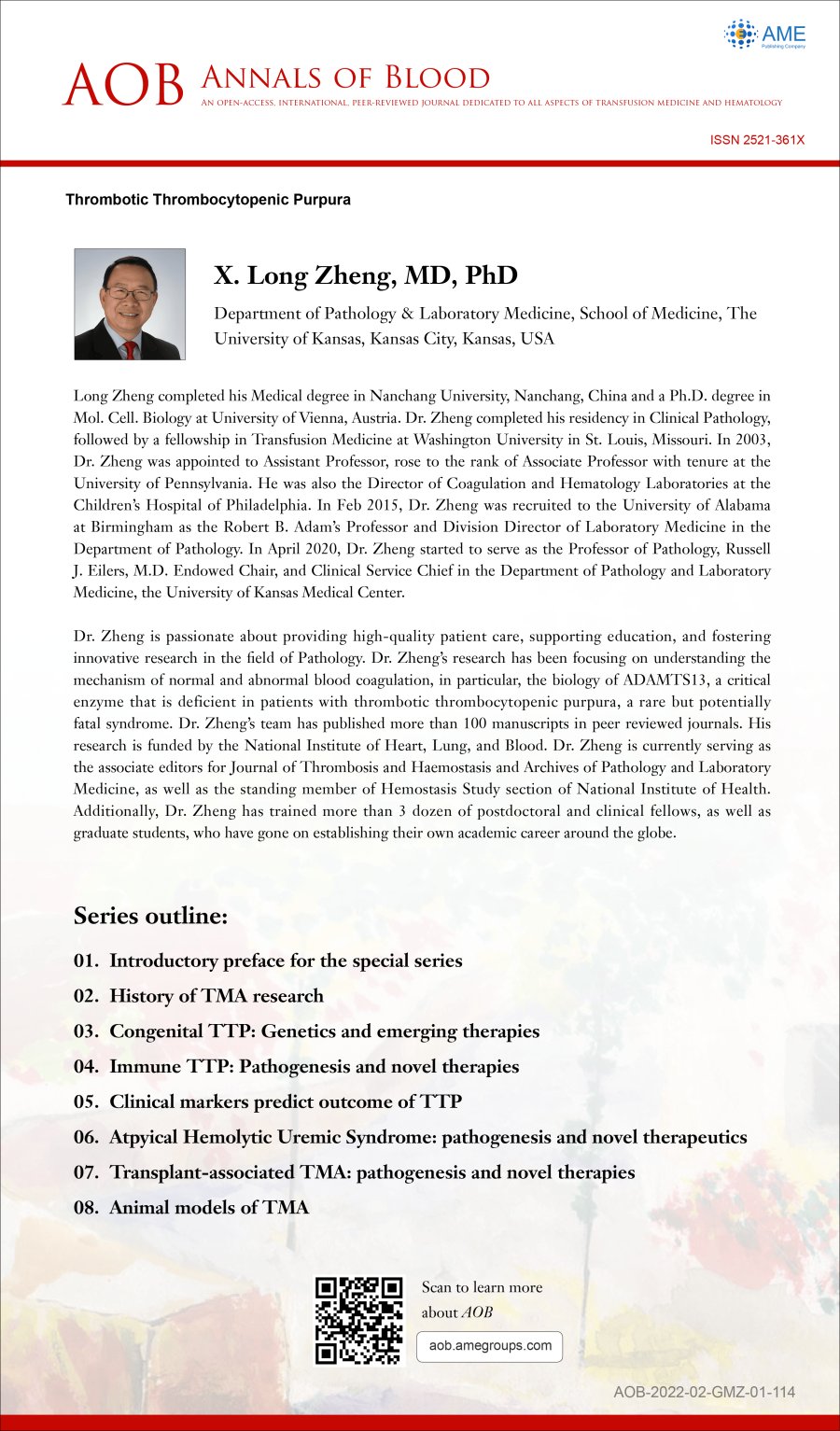 This Series on "Thrombotic Thrombocytopenic Purpura" is edited by Dr. X. Long Zheng from University of Kansas Medical Center, Kansas City, KS, USA
X. Long Zheng, MD, PhD
Department of Pathology & Laboratory Medicine, School of Medicine, The University of Kansas, Kansas City, Kansas, USA
Long Zheng completed his Medical degree in Nanchang University, Nanchang, China and a Ph.D. degree in Mol. Cell. Biology at University of Vienna, Austria. Dr. Zheng completed his residency in Clinical Pathology, followed by a fellowship in Transfusion Medicine at Washington University in St. Louis, Missouri. In 2003, Dr. Zheng was appointed to Assistant Professor, rose to the rank of Associate Professor with tenure at the University of Pennsylvania. He was also the Director of Coagulation and Hematology Laboratories at the Children's Hospital of Philadelphia. In Feb 2015, Dr. Zheng was recruited to the University of Alabama at Birmingham as the Robert B. Adam's Professor and Division Director of Laboratory Medicine in the Department of Pathology. In April 2020, Dr. Zheng started to serve as the Professor of Pathology, Russell J. Eilers, M.D. Endowed Chair, and Clinical Service Chief in the Department of Pathology and Laboratory Medicine, the University of Kansas Medical Center.
Dr. Zheng is passionate about providing high-quality patient care, supporting education, and fostering innovative research in the field of Pathology. Dr. Zheng's research has been focusing on understanding the mechanism of normal and abnormal blood coagulation, in particular, the biology of ADAMTS13, a critical enzyme that is deficient in patients with thrombotic thrombocytopenic purpura, a rare but potentially fatal syndrome. Dr. Zheng's team has published more than 100 manuscripts in peer reviewed journals. His research is funded by the National Institute of Heart, Lung, and Blood. Dr. Zheng is currently serving as the associate editors for Journal of Thrombosis and Haemostasis and Archives of Pathology and Laboratory Medicine, as well as the standing member of Hemostasis Study section of National Institute of Health. Additionally, Dr. Zheng has trained more than 3 dozen of postdoctoral and clinical fellows, as well as graduate students, who have gone on establishing their own academic career around the globe.
Series outline:
Introductory preface for the special series
History of TMA research
Congenital TTP: Genetics and emerging therapies
Immune TTP: Pathogenesis and novel therapies
Clinical markers predict outcome of TTP
Atpyical Hemolytic Uremic Syndrome: pathogenesis and novel therapeutics
Transplant-associated TMA: pathogenesis and novel therapies
Animal models of TMA
Disclosure:
The series "Thrombotic Thrombocytopenic Purpura" was commissioned by the editorial office, Annals of Blood without any sponsorship or funding. Dr. X. Long Zheng serving as the unpaid Guest Editor for the series.