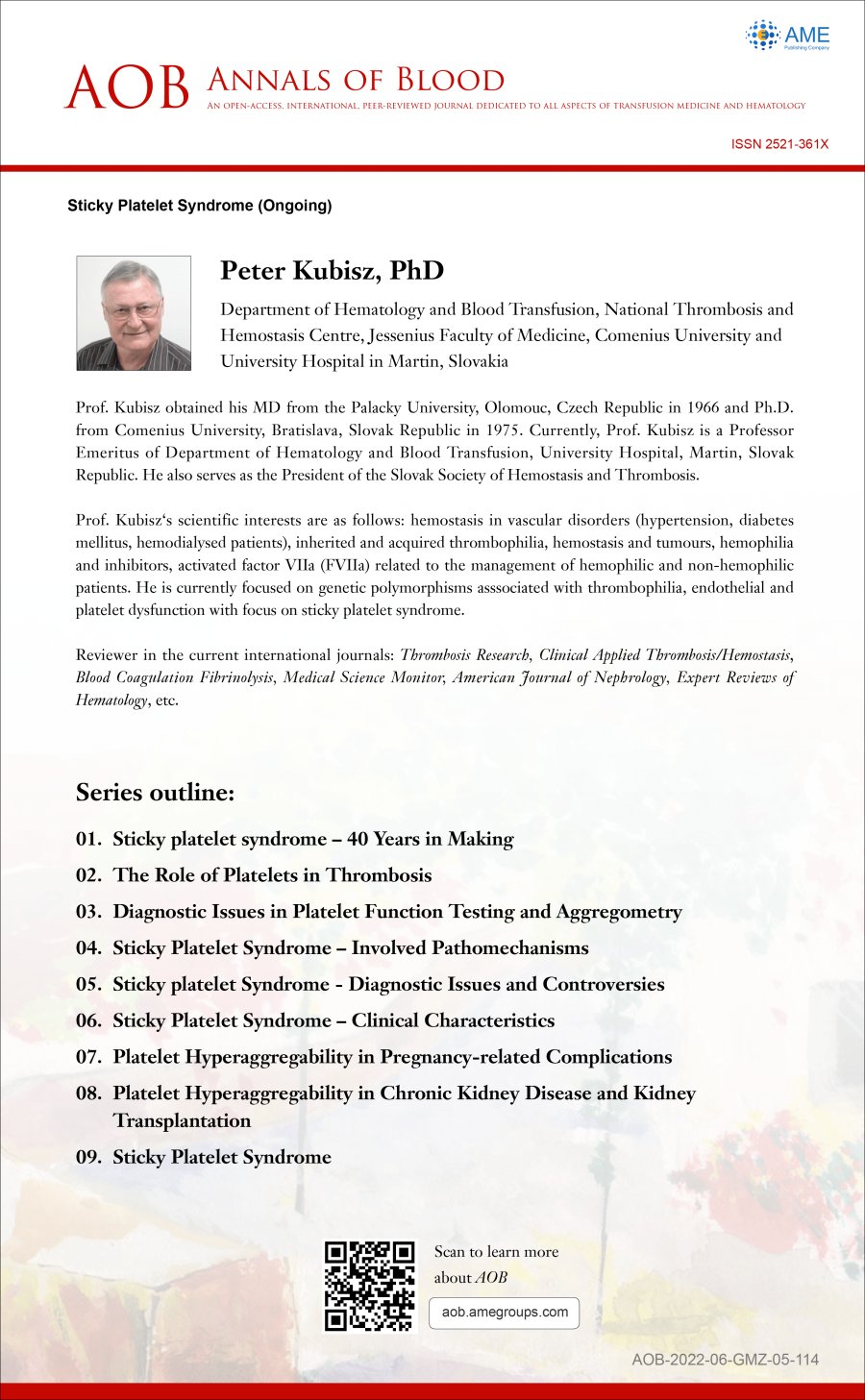 This series on "Sticky Platelet Syndrome" is edited by Prof. Peter Kubisz from University Hospital in Martin, Slovakia.
Peter Kubisz, PhD
Department of Hematology and Blood Transfusion, National Thrombosis and Hemostasis Centre, Jessenius Faculty of Medicine, Comenius University and University Hospital in Martin, Slovakia
Prof. Kubisz obtained his MD from the Palacky University, Olomouc, Czech Republic in 1966 and Ph.D. from Comenius University, Bratislava, Slovak Republic in 1975. Currently, Prof. Kubisz is a Professor Emeritus of Department of Hematology and Blood Transfusion, University Hospital, Martin, Slovak Republic. He also serves as the President of the Slovak Society of Hemostasis and Thrombosis.
Prof. Kubisz's scientific interests are as follows: hemostasis in vascular disorders (hypertension, diabetes mellitus, hemodialysed patients), inherited and acquired thrombophilia, hemostasis and tumours, hemophilia and inhibitors, activated factor VIIa (FVIIa) related to the management of hemophilic and non-hemophilic patients. He is currently focused on genetic polymorphisms asssociated with thrombophilia, endothelial and platelet dysfunction with focus on sticky platelet syndrome.
Reviewer in the current international journals: Thrombosis Research, Clinical Applied Thrombosis/Hemostasis, Blood Coagulation Fibrinolysis, Medical Science Monitor, American Journal of Nephrology, Expert Reviews of Hematology, etc.
Series outline:
Sticky platelet syndrome – 40 Years in Making
The Role of Platelets in Thrombosis
Diagnostic Issues in Platelet Function Testing and Aggregometry
Sticky Platelet Syndrome – Involved Pathomechanisms
Sticky platelet Syndrome - Diagnostic Issues and Controversies
Sticky Platelet Syndrome – Clinical Characteristics
Platelet Hyperaggregability in Pregnancy-related Complications
Platelet Hyperaggregability in Chronic Kidney Disease and Kidney Transplantation
Sticky Platelet Syndrome
Disclosure:
The special series "Sticky Platelet Syndrome" was commissioned by the editorial office, Annals of Blood without any funding or sponsorship. Peter Kubisz is serving as the unpaid Guest Editor for the special series.