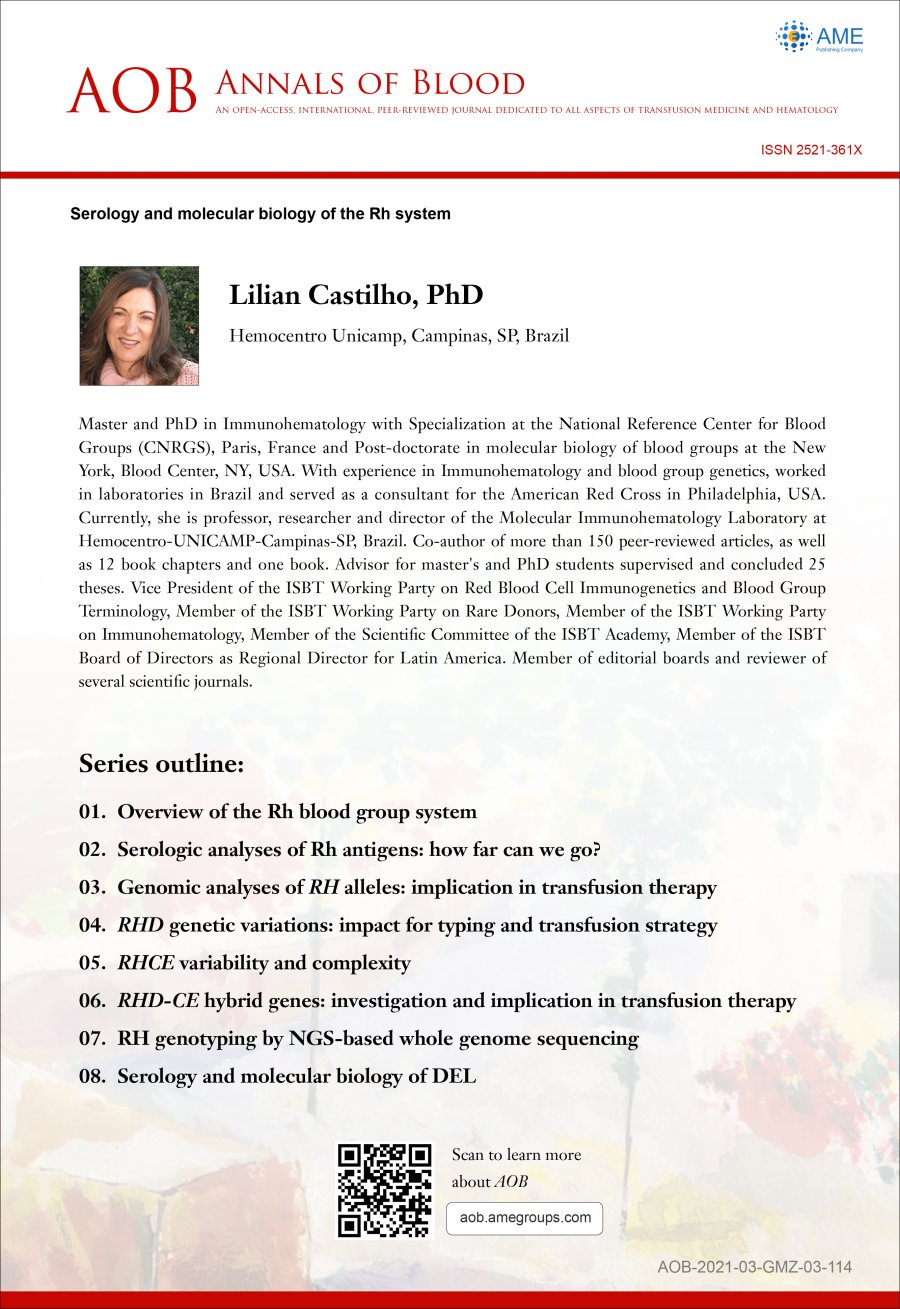 This series on "Serology and molecular biology of the Rh system" is edited by Dr. Lilian Castilho from Hemocentro Unicamp, Brazil.
Lilian Castilho, PhD
Hemocentro Unicamp, Campinas, SP, Brazil
Master and PhD in Immunohematology with Specialization at the National Reference Center for Blood Groups (CNRGS), Paris, France and Post-doctorate in molecular biology of blood groups at the New York, Blood Center, NY, USA. With experience in Immunohematology and blood group genetics, worked in laboratories in Brazil and served as a consultant for the American Red Cross in Philadelphia, USA. Currently, she is professor, researcher and director of the Molecular Immunohematology Laboratory at Hemocentro-UNICAMP-Campinas-SP, Brazil. Co-author of more than 150 peer-reviewed articles, as well as 12 book chapters and one book. Advisor for master's and PhD students supervised and concluded 25 theses. Vice President of the ISBT Working Party on Red Blood Cell Immunogenetics and Blood Group Terminology, Member of the ISBT Working Party on Rare Donors, Member of the ISBT Working Party on Immunohematology, Member of the Scientific Committee of the ISBT Academy, Member of the ISBT Board of Directors as Regional Director for Latin America. Member of editorial boards and reviewer of several scientific journals.
Series outline:
Overview of the Rh blood group system
Serologic analyses of Rh antigens: how far can we go?
Genomic analyses of RH alleles: implication in transfusion therapy
RHD genetic variations: impact for typing and transfusion strategy
RHCE variability and complexity
RHD-CE hybrid genes: investigation and implication in transfusion therapy
RH genotyping by NGS-based whole genome sequencing
Serology and molecular biology of DEL
Disclosure:
The special series "Serology and molecular biology of the Rh system" was commissioned by the editorial office, Annals of Blood without any funding or sponsorship. Lilian Castilho is serving as the unpaid Guest Editor for the special series.